Following Sarah
Sarah Davis' 1949-50 Journey from Michigan to California
Robert Davis, 2013  152 pages
Robert Davis' great great grandparents traveled to California in 1850 and his great great grandmother left a diary.  The diary has been transcribed a couple of times and Sarah's quotes have been used in various publications and on trail signs.  Robert claims to have done a better job at transcribing but then he went a step further.  He followed his ancestor's route using her diary entries to identify her route and camping spots along the way.  This, along with lots of maps, allows the reader to follow along closely too.  At times this gets tedious to anyone but a trail historian but the diary gives a nice descriptions of the trip through the eyes of a young woman.  We'll discuss Donner Summit later.
Davis also includes entries from other emigrant diaries, his own commentary, excerpts from interviews with Sarah by previous descendants, and analysis of others which flesh out Sarah's diary.
Sarah's entries describe the wonders of the journey but also the pathos.
(September 8, 1850) "sunday a butifull morning the sun shines bright and clear as cristal we have passed the most butifull sight I ever saw in my life  a perfect meadow with ten thousand springs in it a gushing right from the mountains clear and cold some of them large anuf to cary any mill in operation…."
(September 12, 1850) "…we have passed one of the most butifull springs    it comes right out of the banks and runs into the valey    it was vary dusty all day to day we have now come in sight of a little creek and the most butifull grass I ever saw    the water clear and runs swift     the stream is covred with willows and they look lovely"
(September 22, 1850)  "…we have now stoped to noon and I founde some of the handsomest flowers here I have saw In my life    there are pleny of ducks and sage hens here    we have had some of them and they are vary good now we have arrived at camp grounds it seems pleasant to stop      plenty of grass"
(September 11, 1850) "we traveled fifteen miles in a butifull valey all day      the grass is like a perfect meadow      the catle is giten fat here    we have still a vary dusty road      it almost suffocates us      there is plenty of Indians signs here all the time    we still keepe in this valey all the time and don't know but we all ways will for their seems to be no hopes of giten out of here…."
(June 24, 1850), "I went to Sarah [her sister in law] she was no beter and I soon saw she would die and she did die before noon o how lonely I felt to think I was all the woman in company and too s[m]all babies left in my care it seams to me as if I would be happy if I only had one woman with me"
Another entry shows the pathos from a wider perspective. (June 13, 1850) "we nooned on the nebriska whare we had plenty of water    we traveled on eighteen miles that day and camped on the Plat river    I saw twelve graves to day     it semes like a grave yard almost to me…. We past thirteen graves"
There are the problems of others, (September 16, 1850)  "…this travel was vary dusty and harde on the catle   one of them droped down in the yoke suficated with dust      we  have now overtaken a great many people and almost evry one of them out of provisions of any kinde…"
(September 30, 1850)   "this day we struck the mane desert…. The roads being vary bad   it is a sight to see the destruction of property here"  relating to the wagons and property left by previous emigrants.
Indians occasion comment, (September 17, 1850)  "….the Indians are vary thick  the they have killed to men to day and took their ammunition and horses and left them for buzards      they devour them like we would sweete cake     we have to have out a strong guarde all the time or we would be killed and  may be we will be killed yet    we dont no"
(September 18, 18509)  "…we thought we ware agoing to be devoured by Indians      they surrounded us   we though therrie was too or three hundred…    we could see them skulkin evrywhare in the grass   mr hemingway shot one…."
(September 19, 1850)  "…we then went on a little ways and came to the river   their we found a man that had bin killed by the Indians and his heart taken out…"
Chapter 5 brought Sarah to the Sierra on October 8, "…we have now a vary heavy snow storm the  mountain is white in the snow and it is vary cold here  I am almost frozen and the children…"  The party passed "some of the handsomest pine trees I ever saw in my life    some of them feet through…"
On the 10th of October they arrived almost to Donner Lake and the next day followed the trail up Coldstream Valley.  They went up the pass and over into Summit Valley.
Now we come to the "bone of contention" with Mr. Davis – the crossing of the Sierra at Donner Summit. 
(October 11, 1850_)  "… we crost siere Nevada mountain and it was vary steepe we had to duble our teams to git up and then had a vary harde time  we founde plenty of snow here and plenty timber and plenty rock a little more than we like      we have go over and found a bottom covered with grass and we founde a butifull creek here"
Mr. Davis then, as he did when there were previous questions about the exact route, analyzed the possibilities for crossing Donner Pass.  Clearly it could not be Stephens Pass (current Donner Pass).  No question there.  Then he looked at the two passes at the head of Coldstream, Coldstream Pass and Roller Pass.  He settled on Roller saying that there is not much proof that emigrants used Coldstream Pass and besides there was an easier way up Roller.  The "duble" teaming proved it.  Besides since Sarah did not mention Lake Mary she had to have gone over Roller Pass.  "Roller Pass then becomes the more probably route taken," says Davis.  Davis then described how emigrants got up Roller Pass: twenty yoke of oxen at the top pulling on chains going over logs to pull up each wagon.  Then he says emigrants found an easier way – just go a little right and then back.  Sarah didn't mention the big teams or the chains so they must have taken the easier route up Roller Pass.  If only the emigrants had earlier found the easier way up Roller.
Mr. Davis followed his ancestor's route west and does a good job spotting the route.  When he got to Truckee though, he must have decided to skip a visit to Roller Pass. It does require a two mile hike but a visit would have shown him there is no easy way up Roller Pass.  If one wants to do switchbacks one can at the beginning but then one has to go straight up or the wagon rolls over.  Here we include a clever picture of a side view of Roller Pass adjusted so you can appreciate the incline.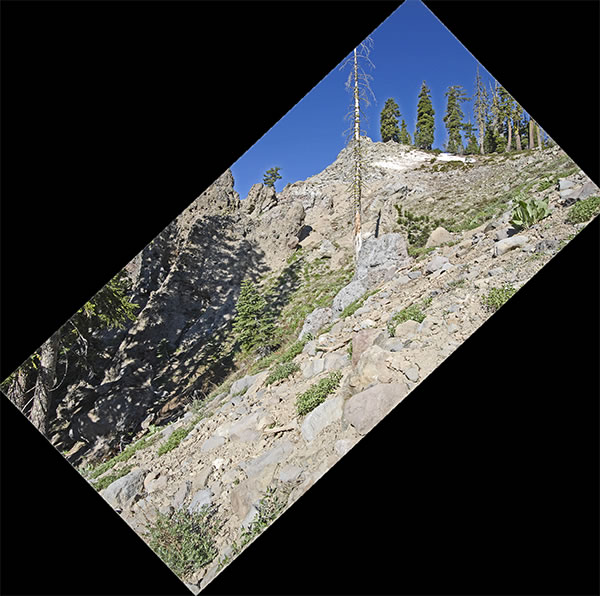 Sarah and her party must have taken Coldstream Pass which was in use by then despite Mr. Davis' doubts.  Rather than interrupt our narrative stream here for analysis by the DSHS Emigrant Trail Study Committee we'll put that off for a few inches and conclude Sarah's journey,
Leaving Summit Valley on October 12, 1850, "this day we traveled sixteen miles and came to yubar river it covred with stones of all sizes and sorts from a hens ague to the size of a wagon   the water is clear and good   it is about six feete wide     we have had the ruffeset roads I have ever saw in  my  life     some places were solid rock and it was butifull to see it     we passed over a mountain of  all sizes and sorts   we passes some handsome timber to day"
At the end is a short section at the end telling what happened to Sarah and some of her descendants.  It's nice to have that.
Then there are pages of bibliography which will give the reader a good reading list for further exploration.
It was gratifying to come to the end of Mr. Davis' book, following Sarah, and see that there is an Heirloom article in the bibliography, even though the author's name is misspelled and the link could not work.  You can see the article by going to our website and finding the November, '11 Heirloom.  There's an article called "What Do We Do Know."  In it the emigrants are confronted with the Sierra – "terrifying."
Not found in the bibliography is the February, '12 Heirloom which considers the use of Coldstream Pass vs. Roller Pass after 1846 in two places.  In the first place is the following,"
"Many of the new trail revisionists say the emigrants never used Coldstream Pass. Not so, the following is a diary quote from Heinrich Lienhard's 1846 Diary published before 1943 (the year of Irene Paden's Wake of the Prairie Schooner—it is in her Bibliography) and entitled 'From St Louis to Sutter's Fort 1846.'" 
"On p. 161 in the 1943 edition of the Wake of the Prairie Schooner she wrote, 'His own company struggled  up through the Aspen woods, crossed Trout Creek, bisected what is now  the highway [Hwy 40] near the Gateway Motel...' and then,
"Early on the fourth of October, we, the eleven owners of seven wagons, prepared to bring our vehicles over the summit. We did not have by far enough chains to attempt the same course [Roller Pass] followed by the preceding party. To the right was another way [Coldstream Pass], which was longer, but the steepest stretch much shorter. We thought we would make it this way.'" To see the entire trail from the Donner Family Campsite to the Summit refer to page 7 in the November 2011 Heirloom.
Another clue is that in 1924 Fred Bratto, owner of the Summit Hotel, probably followed the remains of the Coldstream route up the west slope. This is probably why he found Peter Weddell at the summit (see our last issue pg. 11 describing their meeting).
                                                Marshall Fey -----mfey@libertybellebooks.com
Then, on page 12 is another article, "Unfinished Business" which details how the State of California wrote a report which says in part, "…referring to the 10 most descriptive emigrant diaries. The Proposal includes 42 pages of text, 8 pages of photos of trail sites and two maps. One map, shows the "Probable Route of the Emigrant Road" and defines both the Roller Pass and Coldstream Pass crossings."
There is lots of disagreement over the exact route of the Emigrant Trail.  We even covered one, in October, '11, which discussed the idea that the route went over the north side of Stephens or Donner Pass to near what is now Lake Angela and then to Lake Mary.  Listening to trail experts argue is like listening to Democrats and Republicans so we'll leave it there.  You should visit Roller Pass and you should use our new brochure for the Mt. Judah Loop Trail on our Brochures page.