Events


Donner Party Hike, October 8/9, 2016
See also an evening with Greg Palmer
The Lost Party—Stephens Townsend Murphy
Date: October 8, 2016 (Here's the flyer)
Location: Donner Memorial State Park Visitor Center 12593 Donner Pass Rd., Truckee
Time: 5:00 P.M. DOORS OPEN and 5:30 P.M. PRESENTATION STARTS
As part of the Donner Party Hike festivities, organizers present an evening with Greg Palmer. This event is free and open to the public. On Saturday, October 8 at 5:00 at the Donner Memorial State Park attendees will hear about the first wagons over the Sierra Nevada. Greg Palmer will talk about the saga of the Stephens Townsend Murphy Party of 1844 known as the lost party.
Greg Palmer has years of experience guiding youngsters and history buffs alike in area history. He currently is a docent at Thunderbird Lodge and Donner Memorial State Park. He will delight our audience with his gift of story telling. The lost party is a story of the first wagons that came over the Sierra Nevada. The participants became the core of California development. This small wagon party made up of men, women and children became the first pioneers to successfully take their wagons over the first practical wagon route to California.
Complimentary cheese and crackers served and beverages are available for sale.
This event is produced by Just Imagine Marketing and Design in conjunction with the Donner Party Hike and serves as a fundraiser for the Sierra State Parks Foundation.
For more information contact info@donnerpartyhike.com or call 775-746-4138
News
We just planted 20 Mile Museum sign #46 for Mt. Judah


Walking Through Donner Summit History
Donner Summit is the most important historical square mile in California and maybe the entire Western United States. Native Americans crossed for thousands of years. The first emigrants to arrive in California with wagons came over Donner Summit. The first transcontinental railroad, the first transcontinental highway, the first transcontinental air route, and the first transcontinental telephone line all crossed Donner Summit. The first person to bicycle around the world went over Donner Summit, as did the first person to make a motorized crossing of the U.S. and the first people to attempt to cross the country in an automobile. That's just a bit of the richness that is Donner Summit history.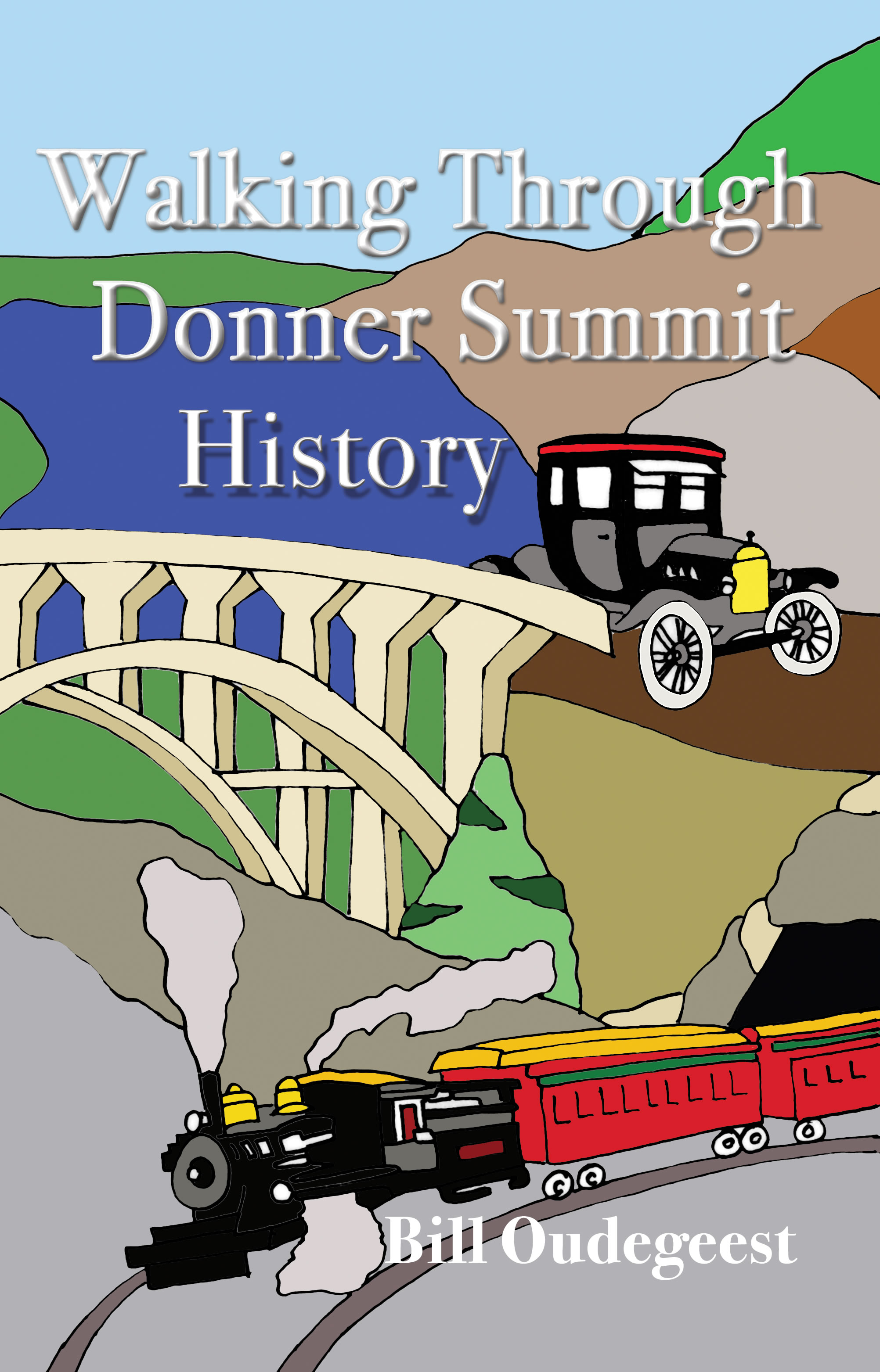 Then there are the fun small stories: frozen turkeys roosting in the trees, the two-story out house at the Summit Hotel, blindfolded mules, and the Spider Dance.

You can walk through Donner Summit history, where it all took place. In the walks described here you will read the stories, "hear" history through people's words, and see the historical photographs that bring the history to life.

Link to purchase the book 218 pages ©2015

You can purchase the book on line (link above), via regular mail, at the Soda Springs General Store, at the Donner Summit Historical Society, at the Donner Memorial State Park, or via regular mail (P.O. 1 Norden, 95724) The cost is $25 which includes sales tax, shipping and handling.