Carleton Watkins The Compete Mammoth Photographs
Weston Naef and Christine Hall-Lewis
2011 published by the Getty Trust   572 pages large format
Carleton Watkins The Complete Mammoth Photographs is about Carleton Watkins' large photographs, not his stereo views.   The photos are not the only mammoth thing here. The book is mammoth.  It's dimensions are 13" x 10" x 2" and weighs in at almost nine pounds.  This book will attract attention not just as a coffee table book but as the whole coffee table.  Its price is mammoth too, so finding it in a library may be the best way to enjoy it, or maybe you have a few Amazon gift certificates lying around. 
This book is a tome, but if you like history, old photographs, including some from Donner Summit and environs, it's worth the effort to get hold of it. There are hundreds of historic photographs beautifully reproduced.. Some are full page. Each comes with good information. This book is really a catalog of the mammoth photographs and so is about those and not Watkins per se.
The Donner Summit photographs are of prime importance of course but there are lot more, particularly of a place called Yosemite, long before Ansel Adams, which looks like it would be a good visit.
Even though Carleton Watkins was an accomplished and prolific photographer in early California, he had almost disappeared by the latter part of the 20th Century and would have disappeared completely  had not some collections surfaced.  As photographs and albums appeared more attention was garnered which brought out other photographs as people began searching.  The photographs are beautiful and have wonderful detail because of the large format cameras* Watkins used.  Watkins' fame and artistry eventually got Mt. Watkins in Yosemite named for him,  a gold medal at the 1867 Paris Exhibition, and the only California artist to that time to have gotten a one-man show in New York.  His fame enabled him to become a charter member of the Bohemian Club and the San Francisco Art Association.
Watkins came to California with Collis P. Huntington of the CPRR's Big Four.  His first photographs were done to serve as evidence in court cases and then John C. Fremont's vast holdings in Mariposa.   The Gold Rush had created a lot of wealth and with that a demand and economic climate for photography, which Watkins met.   As he became known he got more commissions and began to travel the state taking pictures of California scenery,  mining activities, and missions. One category of his photographs was recording the wealth of rich Californians.  The wealthy were building estates on the San Francisco Peninsula and hired Watkins to photograph the estates and some contents.  Those photographs serve as a record of what was, since  most of those estates have been replaced by shopping centers, large buildings, and housing tracts.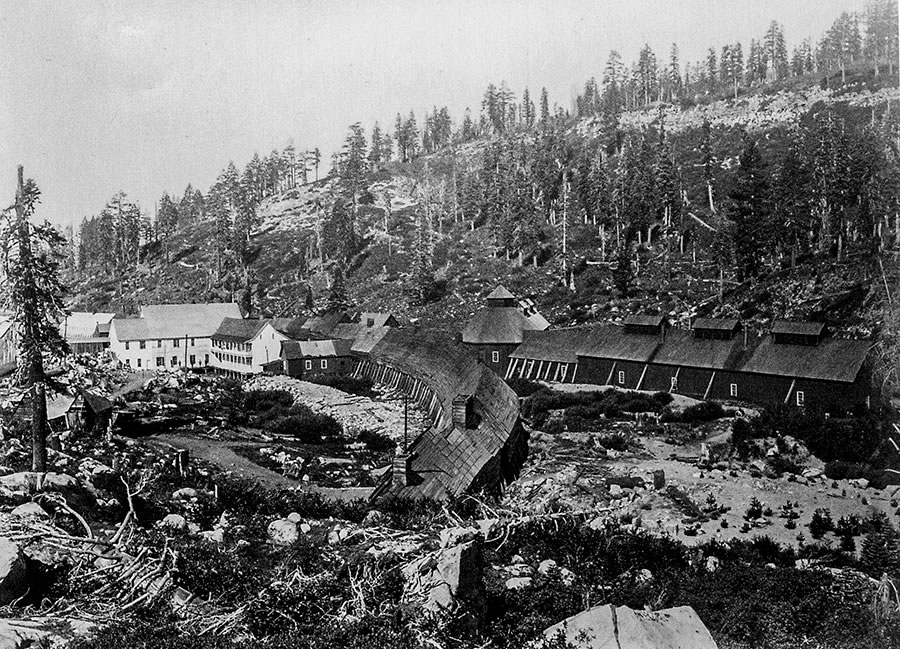 His Yosemite pictures were at least partially responsible for President Lincoln granting Yosemite to California with a mandate to be "forever public domain."  His photos had been exhibited in New York and Senator John Conness (of California and who introduced the bill to protect Yosemite) showed them to Lincoln.  The Yosemite pictures were also what brought Watkins popular fame.  He displayed pictures in his Yosemite gallery in San Francisco.
Financial problems hurt Watkins during the panic of 1875 and he lost his gallery and all of his negatives to his creditors.  That sent Watkins out again throughout the state to redo his photographs.  It also put him in the position of competing against himself as he sold his "Watkins New Series" while his creditors sold his originals.
Watkins' studio and negatives were destroyed during the San Francisco Earthquake.
For those of focused on Donner Summit there are a number of pictures of the old Soda Springs, the Mark Hopkins Estate; Summit Valley; Summit Station; Mt. Lola; and Lake Tahoe hotels of the time. The picture above is of Summit Station, the Summit Hotel, the turntable on the summit, and snowsheds taken in 1876. Beyond our immediate area there are also a lot of railroad and mining pictures. The detail of San Francisco pictures is interesting too.
There is an interesting aside to Carleton Watkins.  Some time ago we reviewed the Railroad Photographs of Alfred A. Hart (January, '14 Heirloom).  Hart was the first official photographer of the CPRR and is responsible for many or most of the photographs showing the construction of the transcontinental railroad's western half.  Carleton Watkins succeeded Hart as official photographer in 1869 and "inherited" Hart's photographs. So many of Hart's pictures were re-labeled Watkins.  According to Meade Kibby, author of the Railroad Photographs… "by 1870 Carleton E. Watkins was at work publishing most of the Hart CPRR negatives, with Hart's original numbers and nearly identical titles, but without credit to Hart…" identified as "Watkins Pacific Coast, and after 1876 Watkins New Series…" 
If you don't want to get the book you can go to the Library of Congress online (loc.gov) and look for Carelton Watkins (www.loc.gov/pictures - enter Watkins in the search window) Our December, '16 Heirloom has more of the pictures of Donner Summit.
*for his Yosemite pictures, taken on his first trip, Watkins hauled in 2,000 pounds of camera and other equipment and used an 18" x 22" camera.