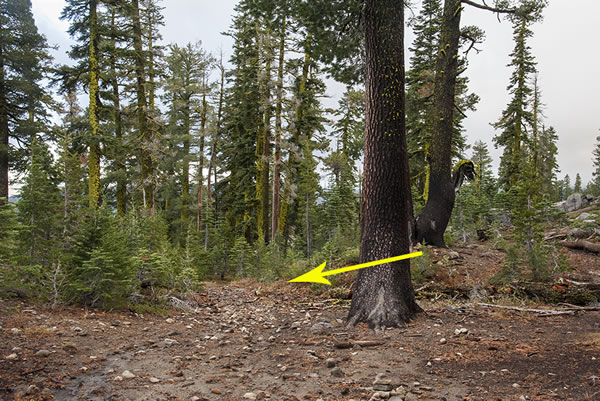 Coldstream Pass (arrow above) was the successor to Roller Pass which was the successor to Donner Pass. Coldstream, although the altitude was the same as at Roller Pass, was the easiest of the three passes and became the main route for emigrants.  It also became a stage route.  Coldstream Pass was succeeded by the Dutch Flat Donner Lake Wagon Rd. in 1864 which had to be engineered down Donner Pass.  The Coldstream route followed the natural topography down into Coldstream Canyon and then along Coldstream Cr. to Truckee.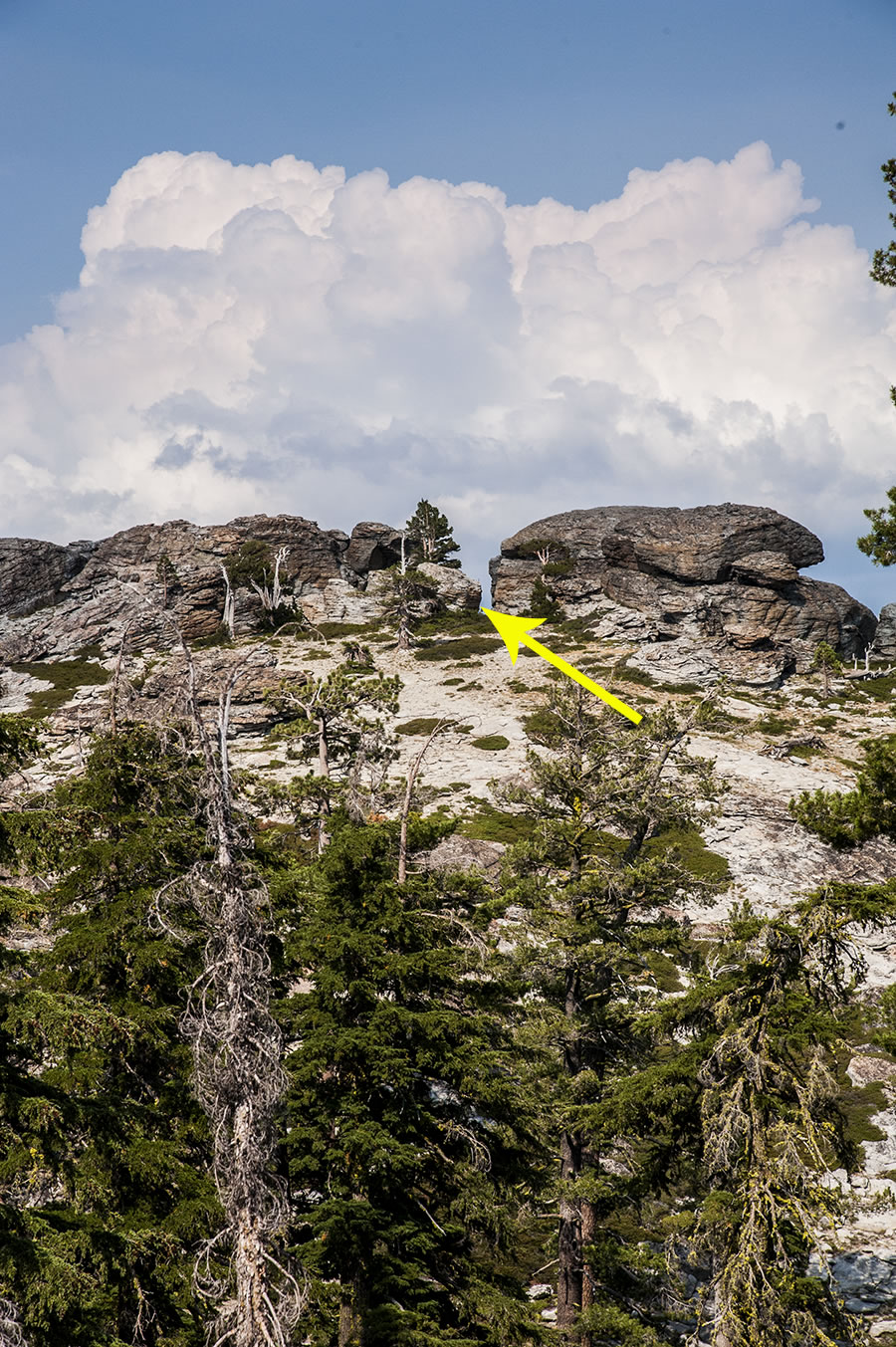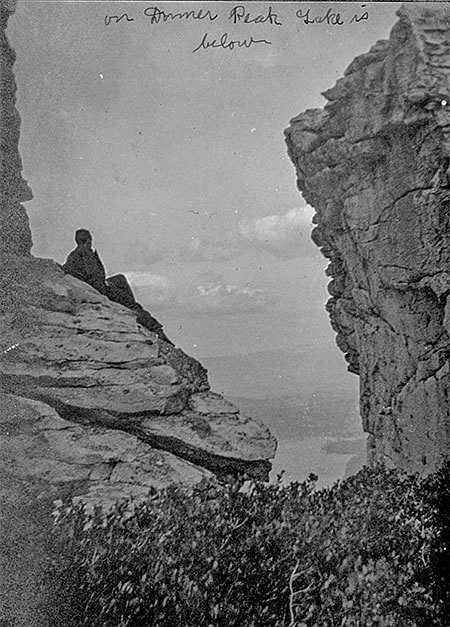 Even after the emigrants were done with Coldstream, people traveled up to it and then to Donner Pk. which you should do now, even if you are tired.  The view through the cleft (at the arrow tip here) of the rocks down to Donner Lake 1000 feet below is spectacular.  There are rocks to climb, views to see, snacks to eat, and a log book to sign (in the rocks on the highest part of Donner Pk.) The fellow at left bicycled to Donner Summit in 1901from Sacramento. One of the side trips was to Donner Pk. He is enjoying the view down to Donner Lake.
Coldstream Pass was discovered in 1846. Heinrich Lienhard says in his 1846 diary
"Early on the fourth of October, we, the eleven owners of seven wagons, prepared to bring our vehicles over the summit. We did not have by far enough chains to attempt the same course [Roller Pass] followed by the preceding party. To the right was another way [Coldstream Pass], which was longer, but the steepest stretch much shorter. We thought we would make it this way.'"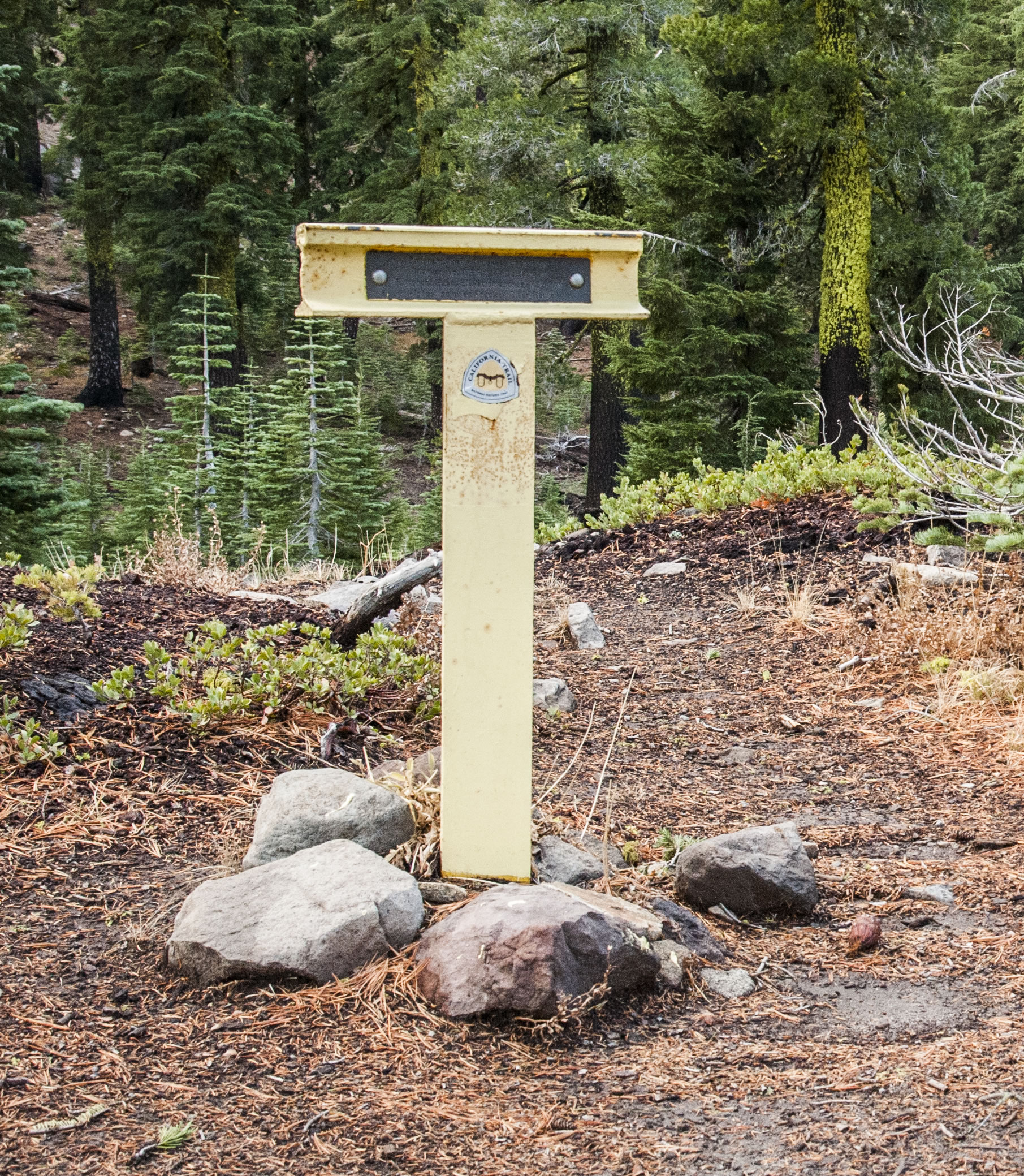 At Coldstream Pass you will find a Trails West marker (highest point on the Truckee River Route, 7850') for the Emigrant Trail and a cairn of rocks built by Peter Weddell in 1924 both marking the Emigrant Trail.

"A Trip to Donner Peak, 1885Following the summit road as far as Lake Mary, some engaged in gathering flowers, and other admiring the grand scenery of the summit peaks, towering up like some grand castle, far above the snow sheds.  After leaving Lake Mary the party proceeded a short distance when lunch was served out under pine trees, which aided the mountain air as an excellent tonic for sharpening appetites. The party then proceeded up the mountain trail near the summit of Donner peak, passing over a large bank of snow. Here a gay game of snowballing was indulged in by the entire company.  After fully ascending Donner peak some grand scenery was presented to view. … From off this peak fair Donner remind one of a mirror spread out beneath amid the mountains."