The whole Mt. Judah Loop is special which is why it's the most popular hike on Donner Summit. This aside is really special though.

Take the Pacific Crest Trail (PCT) up past the switch backs, past the first Judah Loop turnoff, under the Mt. Judah chairlift, across the road, through the forest, until you see the next chairlift which is Jerome Hill*. The trail will make a sharp left, away from the Jerome Hill lift, and will go through a thick stand of willows. That willow thicket will make the trail quite narrow late in the summer.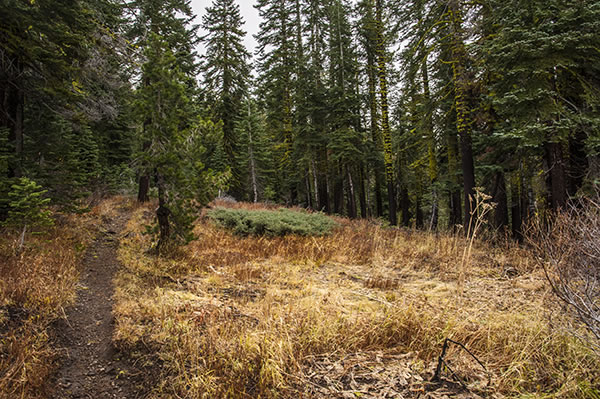 Just as you come into the open the trail levels nicely (right). Stop. Here you can turn off the PCT to the right. Stay on the contour (don't drop or gain elevation) and go about one half mile south. You'll go into one meadow and then through some trees and into a giant meadow. Keep going to the most lush part and you will find the source of the mighty Yuba River coming out of the hillside. It's remarkable. In July the wildflowers will be waist high on both sides of the creek.

Do not try to go directly uphill to rejoin the PCT. It's death defyingly steep and loose.

*Special bonus: Jerome Hill was a scion of the Great Northern Railway family. He built the first version of the Magic Carpet, the gondola that carries skiers from Old 40 over the railroad tracks and into Sugar Bowl. He'd gotten tired of the previous method which was tractor-drawn sleighs. The Magic Carpet went into operation in 1953 and cost 15 cents one-way and 25 cents for a round trip.