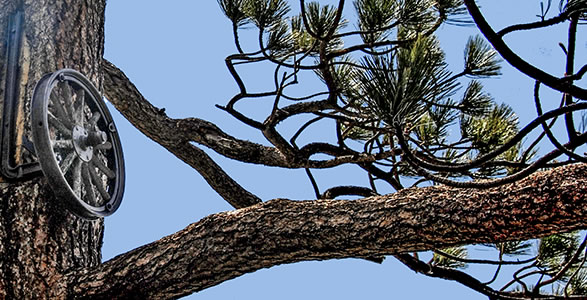 Just after you finish the switchbacks at the beginning of the Judah Loop Trail the trail levels off. You will see Summit Valley off to the right. Look down and you will see Lake Mary.* Stop and look down the mountain side to Lake Mary and admire its steepness. Be patient; there's a reason here.

Now look uphill at the large trees. You will see some things hanging in a few of the trees (example above). Those are remants of the first rope tow on Donner Summit (and the first in the Western United States), built in 1937. Now look down the steep mountainside again towards Lake Mary. Imagine holding on to the rope to be pulled up to the top.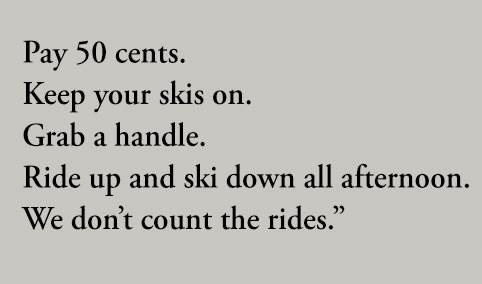 Johnny Ellis saw Donner Summit as the perfect spot for skiing. There was lots of snow, the hillside here was sheltered, and there was good access by both the railroad, which had stops on Donner Summit, and Highway 40. Johnny subdivided the area around Lake Mary that he'd bought for $3.50 an acre and eventually built three rope tows (two were at what is today Donner Ski Ranch) and a warming hut/refreshment stand at the bottom of the hill. The picture above is the wording on Johnny Elllis' rope tow.

One of the tows was powered by a Model A Ford and it had two speeds. For amusement Johnny would sometimes put the tow into high gear. It would "liven things up" and "spill all but the hardiest."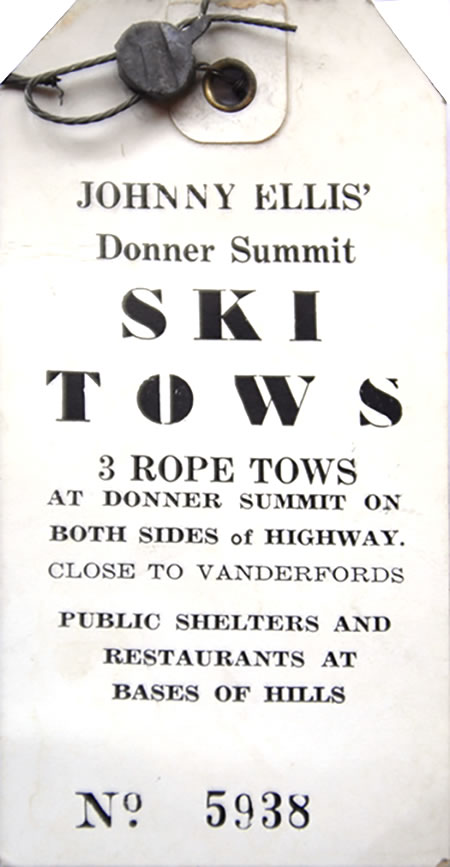 Johnny lengthened his tows and had plans for a resort on the mountain. He planned a lodge at the top with a funicular taking skiers up. WWII came. Johnny went east to help out and Donner Summit was closed by the military to protect the transcontinental railroad. After the war Johnny went into plastics, the high tech industry of the era (remember the advice Dustin Hoffman got in the move "The Graduate?). He never got back to Donner Summit.

Johnny left a legacy. He helped to popularize skiing and Donner Summit. He also campaigned to change Emigrant Pk. to Mt. Judah. If you want to read more, see the April, '09 Heirloom.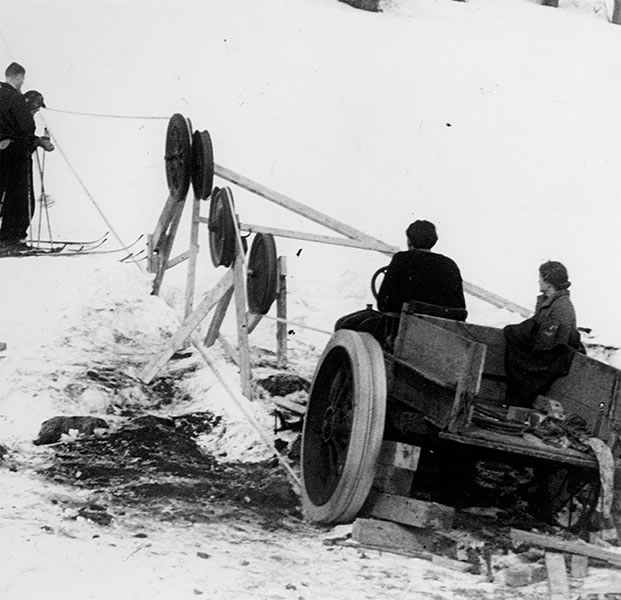 *Lake Mary used to be two lakes, Lakes John and Mary. For whom they were named has been lost to history. The Emigrant Trail used to go right between the two lakes. After the lake was dammed John disappeared. The lake fills with water each spring and the following winter the water is used for snow making at Sugar Bowl.

The picture above is what Johnny's rope tow looked like. No pictures exist of his but his was patterned after the first one, Bunny Bertram's in Vermont.